Fly tipping or the illegal dumping of waste in places other than an authorized rubbish dump is on the increase across the UK fuelled by a surge in unlicensed rogue operators who charge to take away household rubbish and clear houses and then dump what they've cleared in a field, lane, lay-by or even on someone else's driveway. There are serious consequences to the local environment caused by fly-tipping as well as an economic impact as the owner of the land will have to pay to have the site cleared or if it's public land the council will pay and this is money that comes from tax-payers.
Who Is Responsible For Fly-Tipped Rubbish?
While the person carrying out the fly-tipping will be caught and handed a fine it's ultimately the responsibility of householders to ensure their rubbish or house contents is being taken away by a reputable and licensed company. Householders face fines if their household waste is traced back to them and it's discovered that they paid a rogue trader to clear items such as furniture and kitchen appliances as in these cases of illegal fly-tipping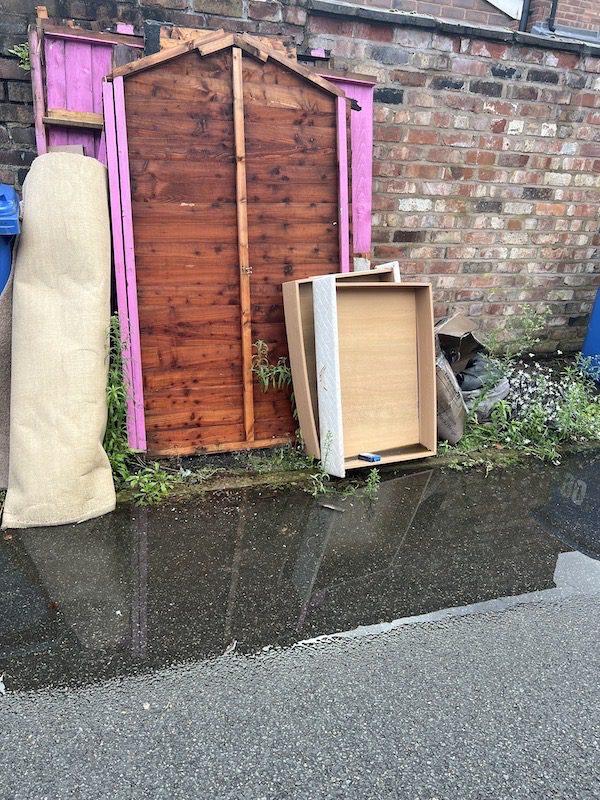 All too often householders are tempted by the offer of a cheap rubbish clearance or a cheap house clearance and then claim to not be responsible when their house contents are discovered in a field and traced back to them. Anyone employing the services of a waste clearance firm needs to check that they're using a reputable and licensed waste clearance company that will make sure that what they've cleared ends up in the right place. This shed was simply unloaded from a van and then the driver drove off and the homeowner called us to clear it.
How Do I Know If The Company Is Licensed?
It's very easy to find out if a company or individual has a waste carrier's license; simply ask to see it. You can also check on the Environment Agency's website to see if the correct license is in place. Other things to look out for are being offered clearance services and a price that seems too good to be true. If you're getting quotes for house clearance for instance and one quote is hundreds of pounds cheaper than the rest then the chances are that the house contents aren't going to be tipped legally but instead end up being fly tipped and when the rubbish is traced back to the householder they'll be prosecuted.
As owners of a professional and ethical Warrington house clearance company, we hear a lot of horror stories concerning fly-tipping and we also get asked to go clear some it up. We all need to do our bit to protect the environment and ensure what we dispose of is handled correctly and responsibly.
What Are The Penalties For Fly Tipping?
Penalties are severe for anyone caught fly tipping and include financial penalties, vehicle seizure and even imprisonment. The maximum fine for fly-tipping is £50,000 and up to 12 months in prison as detailed on this local council website
Householders who fail to ensure their waste is cleared by a licensed waste carrier face fixed penalties of up to £400 and are routinely named and shamed in local newspapers.
It's in all of our best interests to ensure that waste is dealt with properly and while it's tempting to save money by employing the services of a passing man and van who knocks on your door looking for work or someone advertising on social media with very cheap prices, in the long run, it just isn't worth the risk.